Zdravo! Moje ime je Jasmina i dolazim iz Srbije. Ponovo se vraćam blogovanju i ovaj put nadam se za stalno. Što se tiče ovog posta u njemu ću odgovoriti na neka pitanja kako bi me upoznali. Here we go...
Hello! My name is Jasmina and I come from Serbia. I'm back to blogging again and this time hopefully for good. In this post I will answer on some question to get know me better. Here we go...
1. Koji je moj horoskopski znak? | What is my zodiac sign?
2. Šta radim u slobodnom vremenu? | What I'm doing in free time?
Čitam knjige, igram tenis, vodim tumblr posvećen Eizi ili instagramujem. (Da li ta reč postoji? Sada da!)
I read books, play tennis, run the tumblr page about Eiza or instagramming.
3. Moj stil jednom rečju? | My style in one word?
Ne znam tačno kako bih baš opisala svoj stil jer ga nisam još do kraja formirala tako da bi najbolja reč za to bila: svestran. Moj stil je svestran. :)
I don't know exactly how I could describe my style just because I haven't yet fully formed him so I think the best word for my style would be: versatile. My style is versatile.
4. Ko je moj idol? | Who is my idol?
5. Koja je moja modna ikona? | Who is my style icon?
Fie Laursen and Blake Lively.
Source: fielaursen.dk
6. Omiljeni komad odeće? | Favourite item of clothing?
Šeširi definitivno, iako ih ne posedujem...
još!
| Hats definitely, although I don't own them...
yet!
7. Omiljeni komad šminke? | Favourite item of make up?
Crveni karmin. | Red lipstick.
8. Poslednja pesma koju sam čula? | Last song I heard?
9. Omiljena životinja? | Favourite animal?
10. Omiljena hrana? | Favourite food?
Pizza, makarone i musli. |
Pizza, macaroni and cereals.
11. Omiljene boje? | Favourite colors?
Crvena i zelena. |
Red and green.
12. Omiljeni film? | Favourite film?
Danas 13, Sutra 30. Prvi put sam ga gledala sa 10 godina i mislim da sam se tada baš fascinirala i oduševila njime jer mi je i dan-dan number 1.
My favourite movie is
13 Going On 30
. I had 10 years when I watched it for first time and I think in that time I got really fascinated and delighted because he is still my number 1!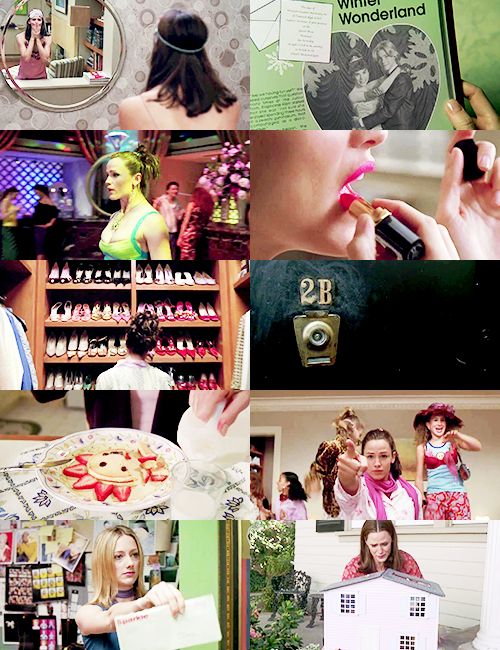 13. Koji su mi budući planovi i ciljevi? | What are my future plans and goals?
Nadam se redovnom i uspešnom blogovanju, a možda i otvaranju youtube kanala. Za cilj imam da putujem i posetim sve zemlje koje želim da posetim i to najbolje opisuje citat ispod.
I hope regular and successful blogging and maybe opening youtube channel. For goal I want to travel and visit all countries I want to visit and that the best describes the quote below.
"My dream is to walk around the world. A smallish backpack, all essentials neatly in place. A camera. A notebook. A traveling paint set. A hat. Good shoes. A nice pleated (green?) skirt for the occasional seaside hotel afternoon dance."
― Maira Kalman, The Principles of Uncertainty